Hyperkin

Hyperkin Brave Warrior Premium Controller for PS2 - Black
Overview
Claim your dominion and fight for control! The Hyperkin "Brave Warrior, now improved for high performance, is a premium controller for the PS2. The Brave Warrior features 2 wide spectrum analog joysticks, pressure-sensitive eight-way directional pad, 4 pressure-sensitive shoulder buttons, 4 pressure-sensitive face buttons, and force feedback. The 6-foot cable allows for easy movement around your console. It's compatible with all PS2 models. Let your battle cry echo for ages to come.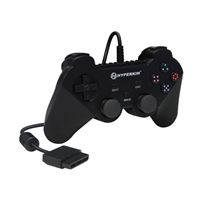 Hyperkin Brave Warrior Premium Controller for PS2 - Black
Usually ships in 1-3 business days.