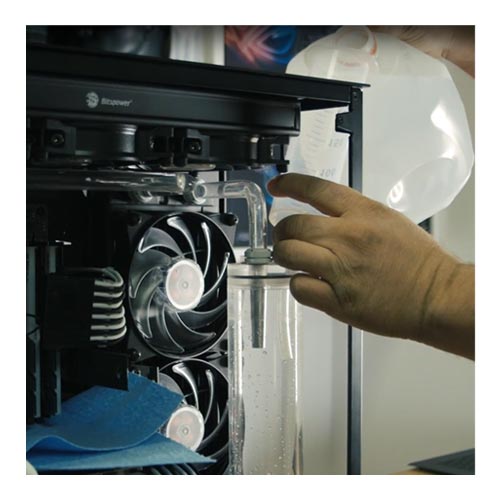 PC Water Cooling Radiator Flush

Most water-cooled systems need drained and flushed every 6-12 months.
Same Day Service when purchased in-store 4 hours or more before store closing
Most water-cooled systems need drained and flushed every 6-12 months.
If you have been running a water-cooled PC with a custom loop for more than a year, it is time to get the loop flushed and the coolant replaced. Contaminants can cause the buildup of algae and other particulate matter in the tubes, fittings, pump, radiator, and cold plate, reducing the cooling efficiency, which leads to higher CPU and GPU temperatures. Let our expert technicians perform a coolant flush to keep your system running as cool and efficiently as possible.
HOW IT WORKS
Bring in your custom PC and power cable
Discuss replacement fluid choices like color and additives
We will drain and flush out the old fluid, then refill it
We'll contact you when your PC is ready to be picked up
Summary
Our technicians will drain the system and flush it with clean water to remove all of the old coolant - once the fluid runs clear we perform a pressure test, then refill the loop with your choice of coolant, color and anti-microbial additives
We recommend doing a coolant flush annually to maintain maximum cooling efficiency and longevity of your system
Water Cooling Flush Service Details
We start off by liberally applying paper towels to sensitive areas of the PC to soak up any possible spills or leaks
Fluid is then drained from your PC and inspected for telltale signs of corrosion or algae
If your system does not have a drain valve, we carefully remove a fitting and orient the PC in a way that fluid flows away from the motherboard and sensitive components
The system is then flushed using our cleaning solution which is designed to remove particulate buildup and residue
Once the fluid runs clear and the bulk of contaminants have been removed, we perform a pressure test to ensure the integrity of all fittings and components
If at any point during the this process we encounter a problem, we will contact you with our findings and recommended next steps
The system is then filled with your choice of fluid, along with any color and anti-microbial additives
We let the system run for a while to let air bubbles work their way out and double check for any fluid leaks
Once we are satisfied the system passes, we will send you a text and let you know it is ready for pickup at the Knowledge Bar
What We Need From You

Bring in your PC and drop it off at our Knowledge Bar

Let us know if you are experiencing any issues such as unusually high temperatures, or any vibrations or noise from the pump, as these may be early signs of failure

We will need direction from you on your choice of fluid - we carry several brands of coolant including EKWB, PrimoChill, and Corsair, as well as color dye packs, anti-corrosion and anti-microbial additives

We will need your cell phone number so we can provide status updates and contact you if we encounter any issues when servicing your PC
We'll Keep You Updated

When dropping off your PC, let us know if you prefer us to contact you via text or email
If for some reason we need more information from you while we are servicing your PC, we will text or email you with any questions we might have
We will send you regular messages as we work, and finally send you a text message or call you when your PC is complete
Our Expertise
Since 1979 we've been selling, repairing, upgrading, and building computers. Our COMPTIA A+ and OEM certified technicians have repaired and upgraded thousands of PCs for personal and business use.
Our long standing, and deep industry relationships enables us to become authorized service providers for several top tier brands.
Authorized Service Provider for Top Tier Brands






Visiting the Micro Center Knowledge Bar
Select this service online, include a full and complete description for our technicians, then book an appointment to speak with one of our technicians
Reviews
Questions and Answers
Specifications
Service:
PC Water Cooling Radiator Flush

Most water-cooled systems need drained and flushed every 6-12 months.
Duration:
Same Day Service
Subcategory:
Custom PC Build
Parts Warranty:
90 days for replacements parts, if your device is not covered under a manufacturer's warranty, or extended service plan. Warranty for retail parts are covered under the manufacturer's warranty and will vary by part and manufacturer.