Geko

Geko Orbit530 1296p Super HD Wifi Dash Cam w/ 16GB microSD Card
Overview
The Orbit 530 is a high-performance dash cam with a 2 in. LCD screen has all the necessary functions to capture your drive. The 530 records at 1296P ensuring you to record crystal clear footage. It also records with wide angle lens of 150 degree to fully capture blind spots on the side and important small details, such as license plates. Night vision will deploy in low light situations guarantee that your records will be light up and clear. For a user-friendly experience, built-in Wi-Fi to easily transfer your footage directly from your dash cam to your smartphone. Additionally, we have featured in driver assist features such as Stop & Go, Driver Fatigue Warning, and Headlight Reminder to help you have a greater driving experience. With this package, you have 2 mounting options to choose from, a 3M sticky mount or a rubber mount to fit your vehicle needs. A 16GB microSD card is included with the package, so once you have the Orbit 530, you will be ready to hit the road and let your high-performance dash cam capture everything that may unfold on the road.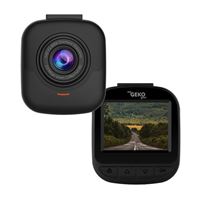 Geko Orbit530 1296p Super HD Wifi Dash Cam w/ 16GB microSD Card
Usually ships in 5-7 business days.