AOC

AOC CQ27G1 27" QHD 144Hz HDMI DP FreeSync Curved Gaming LED Monitor
Overview
The AOC CQ27G1 comes with 144MHz refresh rate to provide smooth transitions without delays, and capturing more action details. 122% SRGB, 102% NTSC wide color gamut, enhance the color depth between the colors to make the picture more full and delicate. With one-button settings you can quickly enter the game state, quickly open the game star, and help the FPS game shooting aiming. 1700R Center Curvature creates a three dimensional surround. With 1700R Center Curvature edge loss is reduced, and picture integrity is guaranteed to help with reducing reflecting light source interference.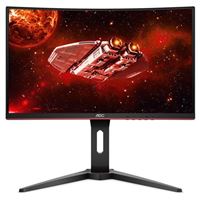 AOC CQ27G1 27" QHD 144Hz HDMI DP FreeSync Curved Gaming LED Monitor
Usually ships in 1-3 business days.