QVS

QVS DVI-D Male/ USB 2.0 (Type-A) Male to DisplayPort Female Converter Cable - Black
Overview
Convert DVI-D to DisplayPort. It works with any computer or projector with DVI and connect to display device with DisplayPort. Supports 1920x1200/60Hz and powered thru USB port. Note: This converter is not for converting DisplayPort to DVI.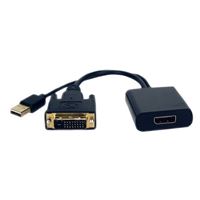 QVS DVI-D Male/ USB 2.0 (Type-A) Male to DisplayPort Female Converter Cable - Black
Usually ships in 1-3 business days.