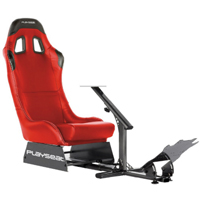 Playseat

Playseat Evolution Red Special Edition
Buy ANY sim racing rig, get Free 1 yr. iRacing membership. New members only.
Available for In-Store Pickup Only.

Overview
The Playseat Evolution is the ultimate sim-racing seat on the planet providing dynamic gaming and racing capability with ultimate comfort and style to boot! It is compatible with all electronic steering wheel and pedal sets on the market. Contains fully adjustable steering wheel and pedal set support.

Playseat Evolution Red Limited Edition Racing Chair
Feel the evolution!
Playseat chairs are used by professional drivers like Takuma Sato to simulate races and to learn new tracks
Highly adjustable to accommodate your personal style
The Evolution is made of high quality leather-look red vinyl
Superior Racing Simulation
---
Easy to assemble and store
Playseat Evolution's slim profile fits neatly into your gaming space. But, don't let it's sleek silhouette fool you. The Evolution delivers a racing experience fit for gamers and professional racers alike; it's all about comfort and style. It adjusts to a variety of sizes so you get a playstation that feels like it's custom designed for your comfort.
You can easily assemble the Evolution's sturdy steel frame and it comes with pre-drilled mounts to work with most pedal and steering components including Thrustmaster, Logitech, MadCatz, and Xbox 360, and Fanatec. It's also compatible with PlayStation 2, PlayStation 3, PlayStation 4, Xbox, Xbox 360, Xbox One, Wii, Mac and PC.
When you've won the race, simply fold it up and store it away.
---
Customizable and adaptable
Adjusts to a variety of sizes
Suitable for adults and children
Adapts to a number of popular gaming platforms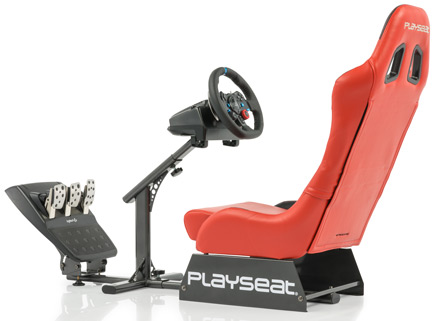 Designed with input from professional racers
---
Specifications
Recommended driver's length: Minimum 47 inches Maximum 87 inch
Recommended driver's weight: Minimum 47 lbs Maximum 270 lbs
Dimensions (LxWxH): 51.2 x19.7 x 38.6 inches
Backrest height: 30.71 inches
Seat height: 9.45 inches
Seat width: 18.9 inches
Seat depth: 8.31-19.69 inches
Net weight: 43.65 lbs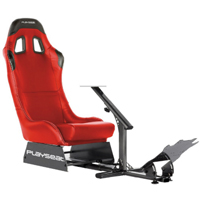 Playseat Evolution Red Special Edition
Available for In-Store Pickup Only.