Corsair

Corsair Vengance LPX 32GB (2 x 16GB) DDR4-3200 PC4-25600 C16 Dual Channel Desktop Memory Kit CMK32GX4M2Z3200 - Black
Overview
Vengeance LPX memory is designed for high-performance overclocking. The heat-spreader is made of pure aluminum for faster heat dissipation, and the custom performance PCB helps manage heat and provides superior overclocking headroom. Each IC is individually screened for performance potential.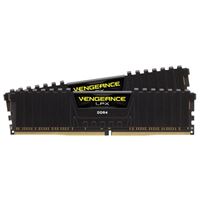 Corsair Vengance LPX 32GB (2 x 16GB) DDR4-3200 PC4-25600 C16 Dual Channel Desktop Memory Kit CMK32GX4M2Z3200 - Black
Usually ships in 1-3 business days.