Astro Gaming

Astro Gaming C40 TR Controller for PS4
Overview
The C40 TR is the only 3rd party controller to offer wireless audio via the 3.5mm jack. Never worry about your gear quitting on you when you need it the most. 12 hours means you can outlast your game. Low latency wired mode for pro tournament environments where wireless controllers aren't permitted. Low latency wireless mode for home settings where performance is still a demand, but wires get in the way. Create and save custom controller mapping and sensitivity profiles, as well as audio EQ profiles. Swap between 2 unique profiles stored on the controller with no down time. Rear buttons allow critical functions to be performed without removing your thumbs from the sticks, useful for most FPS titles where hyper-quick actions can be the difference between winning and losing. The C40 TR also allows users to setup the controller in Parallel (PS4) or Offset (XBox) stick configuration depending on your personal preference.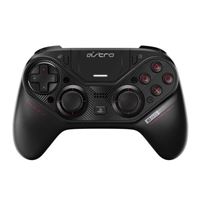 Astro Gaming C40 TR Controller for PS4
Usually ships in 1-3 business days.