Brother

Brother CZ-1005 Continuous Length ~ 2 (1.97") 50 mm wide x 16.4 ft. (5 m) Long Label Roll featuring ZINK Zero Ink Technology
Overview
Brother Genuine CZ-1005 continuous length ~ 2 (1.97) 50 mm wide x 16.4 ft. (5 m) long label roll lets you create labels, photos, stickers and more up to 17 inches long. Features ZINK Zero Ink technology with all colors required for high-quality photo printing embedded in the paper. CZ-1005 label roll ZINK paper is water, tear and smudge resistant and has an adhesive backing that adheres to most surfaces perfect for creating stickers. Youll have fun decorating, personalizing, organizing and creating everything from handmade gifts, gift wraps and tags, greeting cards and invitations, jewelry, photo projects including photo strips and panoramic photos, party favors, kids stickers, and family fun items to tackling a myriad of organization tasks, business projects, address labels, scrapbooking, home decor, and more.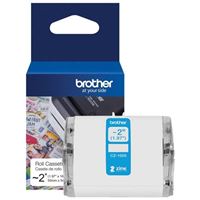 Brother CZ-1005 Continuous Length ~ 2 (1.97") 50 mm wide x 16.4 ft. (5 m) Long Label Roll featuring ZINK Zero Ink Technology
Usually ships in 5-7 business days.