Available for In-Store Pickup Only.

Overview
The ButtKicker BK-GR2 Gamer is awesome for gaming, simulation, computer entertainment, and digital music playback. This device works with all computer systems and all gaming consoles, and allows you to feel the gut-wrenching punch of machine-gun fire, the pounding of chopper blades, racing engines, gear-shifts, explosions and more. With the ButtKicker Gamer you can experience powerful bass even while you're using headphones. But what is it and how does it work? The ButtKicker is a small linear motor that reacts to an audio signal sent by an amplifier. The ButtKicker Gamer comes with its own 90-watt amplifier that is convection-cooled with vents so theres no noisy fan. It also includes a wired remote control so you can stash the amp out of sight and still operate its core features. It is similar to a loudspeaker, but instead of a moving a cone and transferring sound waves through the air, the ButtKicker Gamer is attached to your seat and sends a low frequency sound directly into your body. The effect is amazing.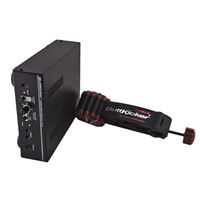 ButtKicker Gamer2
Available for In-Store Pickup Only.