Sakar

Sakar iPad Kit w/ Case, Stylus, Earbuds
Overview
Soft microfiber iPad case with different folding options to providing different viewing options. Personal set of earbuds to listen to your videos or music on your iPad. A stylus making it easier to draw on your iPad.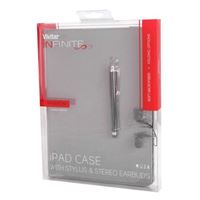 Sakar iPad Kit w/ Case, Stylus, Earbuds
Usually ships in 1-3 business days.