Samsung

Samsung C49RG90 49" Dual QHD 120Hz HDMI VGA DP FreeSync HDR Curved Gaming QLED Monitor
Overview
Equivalent to two 27-inch QHD displays side by side, Samsung's 49-inch CRG9 Curved QLED Gaming Monitor immerses you in detail and color. AMD Radeon FreeSync 2 technology and 120Hz refresh rate provide crisp images, even in fast motion scenes. A spectacle to behold, the 49-inch CRG9 is built to help you win more and do more.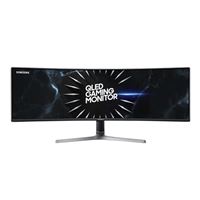 Samsung C49RG90 49" Dual QHD 120Hz HDMI VGA DP FreeSync HDR Curved Gaming QLED Monitor
Usually ships in 1-3 business days.