PopSockets

PopSockets Phone Grip Stand - Cat Nap
Overview
If an annoying person tries to chat you up, just turn to them and politely say Shh! My kitty is sleeping. Guaranteed theyll leave you alone. Swappable PopGrips allow you to swap out your PopTops and allow for wireless charging, Offers a secure grip so you can text with one hand, snap better photos, and watch cat videos hands-free.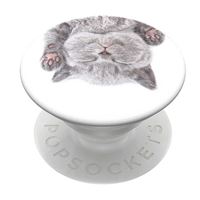 PopSockets Phone Grip Stand - Cat Nap
Usually ships in 5-7 business days.