PopSockets

PopSockets PopGrip: Swappable Grip for Phones & Tablets - Pandamodium
Overview
Why put just one panda on your phone when you can put a whole bunch? Right? Right. Glad we settled that. Swappable PopGrips allow you to swap out your PopTops and allow for wireless charging, Offers a secure grip so you can text with one hand, snap better photos, and watch cat videos hands-free.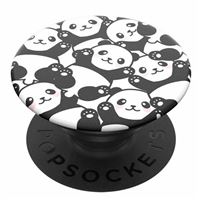 PopSockets PopGrip: Swappable Grip for Phones & Tablets - Pandamodium
Usually ships in 5-7 business days.