Belkin

Belkin DuraTek Plus USB-C to USB-A Cable with Strap (Ultra-Strong USB to USB-C Cable/USB Type-C), Black, 6'/1.8m
Overview
Belkin's DuraTek Plus USB-C cables are universally compatible with USB-C devices. This cable is manufactured with top quality materials for maximum durability and is 10 times stronger than standard USB-C cables. This cable comes with a leather closure strap to help keep the cable perfectly rolled and free of tangles.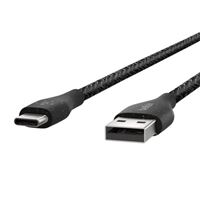 Belkin DuraTek Plus USB-C to USB-A Cable with Strap (Ultra-Strong USB to USB-C Cable/USB Type-C), Black, 6'/1.8m
Usually ships in 5-7 business days.