Amazon Amazon Fire 7 with Alexa - Black

7.0" 1024 x 600 IPS Display; MediaTek 53-014281 1.3GHz Quad-Core CPU; 1GB RAM & 16GB Storage; Fire OS 6
Overview
7.0" 1024 x 600 IPS Display
MediaTek 53-014281 1.3GHz Quad-Core CPU
1GB RAM & 16GB Storage
Fire OS 6
Engineered and tested by Amazon, the all-new Fire 7 comes with 2X the storage, faster quad-core processor, and hands-free with Alexa. Complete tasks, enjoy movies on the go, browse recipes, or ask Alexa for the weathermaking your every day easier. Enjoy millions of movies, TV episodes, games, apps, e-books, and songs. Stream or download thousands of videos from Prime Video, Netflix, STARZ and SHOWTIME. Discover over 570,000 apps and games, 475,000 Audible titles, and millions of songs. Alexa connects you to the information, entertainment, and people who matter mostwith just your voice. Ask to play videos and music, open apps, shop online, check the weather, call or message almost anyone and much more.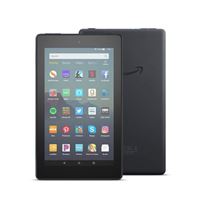 Amazon Fire 7 with Alexa - Black

7.0" 1024 x 600 IPS Display; MediaTek 53-014281 1.3GHz Quad-Core CPU; 1GB RAM & 16GB Storage; Fire OS 6
Usually ships in 5-7 business days.