Naxa Electronics Naxa Electronics NID 1052 - Black

10.1" 1280 x 800 IPS Display; Rockchip RK3126C 1.2GHz Quad-Core CPU; 2GB RAM & 32GB Storage; Android 9.0 Pie
Overview
10.1" 1280 x 800 IPS Display
Rockchip RK3126C 1.2GHz Quad-Core CPU
2GB RAM & 32GB Storage
Android 9.0 Pie
This 10" Full HD Tablet comes with a Bluetooth keyboard that turns your tablet into an all-intensive device that is ready for either entertainment or business. The keyboard folio case cover ensures a longer, more pristine device life by protecting against scratches and dust. You get vivid imagery thanks to the 800 x 1280 screen resolution. A high-power Quad Core processor turns your tablet into a multimedia powerhouse. The tablet c has up to 32 GB of storage for all of your important files. Front and rear cameras allow you to take high-quality photos/videos, as well as enjoy video chats with friends and family.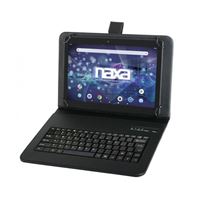 Naxa Electronics NID 1052 - Black

10.1" 1280 x 800 IPS Display; Rockchip RK3126C 1.2GHz Quad-Core CPU; 2GB RAM & 32GB Storage; Android 9.0 Pie
Usually ships in 5-7 business days.