BLU BLU G5 Plus Unlocked 4G LTE - Black Smartphone

GSM; 2 GB RAM/32 GB Storage; 6" IPS LCD Display; 13 Megapixel Camera
Overview
GSM
2 GB RAM/32 GB Storage
6" IPS LCD Display
13 Megapixel Camera
Android 9.0
Dual Nano SIM
The big brother of the G5, the G5 PLUS offers the same great design and performance as its sibling, but now with a 6" screen. Offered in a pristine painted version and also with a more low key non painted pattern housing, the G5 PLUS is a stunner in either finish.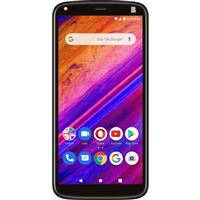 BLU G5 Plus Unlocked 4G LTE - Black Smartphone

GSM; 2 GB RAM/32 GB Storage; 6" IPS LCD Display; 13 Megapixel Camera
Usually ships in 1-3 business days.