Dell Dell G5 15 5590 15.6" Gaming Laptop Computer - Black

Intel Core i7-9750H Processor 2.6GHz; NVIDIA GeForce RTX 2060 6GB GDDR6; 16GB DDR4-2666 RAM; 512GB Solid State Drive
The undisputed choice for class and play
Available for In-Store Pickup Only.

Overview
Intel Core i7-9750H Processor 2.6GHz
NVIDIA GeForce RTX 2060 6GB GDDR6
16GB DDR4-2666 RAM
512GB Solid State Drive
Microsoft Windows 10 Home
SD Card Reader
2x2 802.11ac Wireless+Bluetooth
15.6" Full HD IPS 144Hz Display
Built to bring out your battle cry. The 15.6" Dell G5 15 5590 gaming laptop computer with a 24mm design, featuring a 9th Gen Intel Core i7-9750H processor and NVIDIA GeForce RTX 2060 graphics, plus a narrow bezel display.

For a limited time, get Wolfenstein: Youngblood and Control with a purchase of a qualifying GeForce RTX 20 Series graphics card, gaming desktop, or gaming laptop.
Arm yourself against alternate-reality foes with a system powered by NVIDIA® GeForce RTX™. With the revolutionary RTX platform, maximize your performance and visual fidelity with real-time ray tracing and super-powerful AI-processing. Whether you are exploring other dimensions within the mysterious "Oldest House" building in Control, or liberating alternate 1980's Paris in Wolfenstein: Youngblood, GeForce RTX delivers the ultimate gaming experience.
*Terms and Conditions apply.
Offer good through August 8, 2019 or while supplies last. Qualifying graphics cards, desktops, or laptops: GeForce RTX 2080 Ti, GeForce RTX 2080 Ti desktop, GeForce RTX 2080, GeForce RTX 2080 desktop, GeForce RTX 2080 laptop, GeForce RTX 2070, GeForce RTX 2070 desktop, GeForce RTX 2070 laptop, GeForce RTX 2060, GeForce RTX 2060 desktop, GeForce RTX 2060 laptop. Game must be redeemed with qualifying graphics card installed. Customer must meet the age requirement for the game to redeem. Regional/Country Requirements: Some coupons require that they be redeemed in specific regions or countries they were purchased in. Please redeem the code in the appropriate region/country.

Upgrade to NVIDIA GeForce laptops, for students who need thin, light, and powerful computers. Powered by the award-winning NVIDIA Turing™ GPUs, GeForce laptops can tackle the most challenging coursework and play the most demanding games. From data science and AI to content creation, design, and gaming, get a GeForce laptop that works and plays as hard as you do.
NVIDIA GeForce laptop features include:
Accelerated data computing and gaming graphics powered by award-winning NVIDIA Turing GPUs with up to 2944 CUDA cores
Easily manage heavy workloads with up to 8GB of fast GDDR6 video memory
Supercharge AI, data science and ray tracingwith NVIDIA Tensor cores and RT cores in RTX models
AI, data science, and creative content creation performance supported by NVIDIA's SDK and Studio Drivers
Play the latest games at high-refresh rates with the most powerful graphics available in any laptop
Highly portable designs, as thin as 17mm and as light as 4 pounds.
NVIDIA GeForce laptops work and play as hard as you do.
Get your work done faster -- NVIDIA GPU technology accelerates data science and AI2
Create and render stunning virtual worlds and edit up to 6K video in real time
Don't get stuck in the lab -- thin and light GeForce laptops work wherever you go
Play the latest games with great performance, all on the same system
Extended battery life, powered by NVIDIA Optimus™ technology, that is optimized to deliver the performance you need, when you need it
Highly portable designs, as thin as 17mm and as light as 4 pounds.
GeForce laptops work hard and play hard. When class work is done, enjoy blazing-fast performance and the most realistic graphics. GeForce laptops rival high-end desktops, allowing you to play popular games that average laptops can't.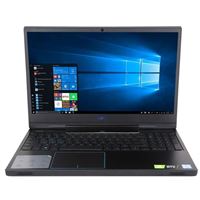 Dell G5 15 5590 15.6" Gaming Laptop Computer - Black

Intel Core i7-9750H Processor 2.6GHz; NVIDIA GeForce RTX 2060 6GB GDDR6; 16GB DDR4-2666 RAM; 512GB Solid State Drive
Available for In-Store Pickup Only.