Adafruit Industries

Adafruit Industries PyBadge for MakeCode Arcade, CircuitPython or Arduino
Overview
What's the size of a credit card and can run CircuitPython, MakeCode Arcade or Arduino even when you're on a budget? That's right, it's the Adafruit PyBadge LC! We wanted to see how much we could cram into a ?3 3/8 × ?2 1/8 inch rounded rectangle, to make an all-in-one dev board with a lot of possibilities, and this is what we came up with.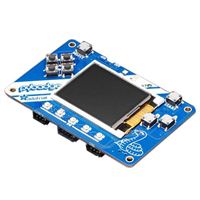 Adafruit Industries PyBadge for MakeCode Arcade, CircuitPython or Arduino
Usually ships in 5-7 business days.