NetGear

NetGear ProSAFE GS110TP 8-port Managed Gigabit Ethernet Smart Switch w/ 2 x Gigabit SFP Uplinks
Overview
Joining the NETGEAR ProSAFE family of Smart Managed Switches with high performance and cost efficiency, this 10-port Gigabit Smart Managed Switch is packed with powerful L2 features capable of enhancing any type of business network. The GS110TP is designed for customers who need a low port density solution with the combination of Gigabit speed and PoE capability. The GS110TP comes with 8 dedicated 10/100/1000 Mbps copper ports to connect to your end devices and two additional Gigabit Fiber ports for uplinks with greater distance. With PoE capability on all 8 copper ports, the GS110TP can automatically detect PoE on the end devices and dynamically manage power assignments and priority. It is capable of delivering up to 15.4W of power per port, up to a maximum total of 46W across all connected PoE devices, and network connectivity concurrently across a single ethernet cable, to power devices such as wireless access points, IP phones and IP cameras, providing flexibility and ease of deployment to your network.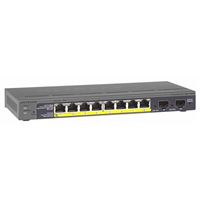 NetGear ProSAFE GS110TP 8-port Managed Gigabit Ethernet Smart Switch w/ 2 x Gigabit SFP Uplinks
Usually ships in 5-7 business days.