Pimoroni

Pimoroni Breakout Garden HAT (I2C)
Available for In-Store Pickup Only.

Overview
Breakout Garden HAT (I2C) [PIM377]. Grow your projects on Breakout Garden. It's the easiest way to use breakouts with your Raspberry Pi. There's no soldering required, just pop up to six Pimoroni breakouts (6x I2C only) into the slots on Breakout Garden and get started coding and creating. Note that this version of Breakout Garden does not support our SPI breakouts! If you want to use Pimoroni SPI breakouts, then you should get the newer version of Breakout Garden HAT. It's ideal for prototyping projects without the need for complicated wiring, soldering, or breadboards, and you've always got the option of changing your setup thanks to the way that Breakout Garden works. The six sturdy slots on Breakout Garden are edge connectors that connect the five pins on each Pimoroni breakout to the power and I2C (for data) pins on your Raspberry Pi. Because I2C is a bus, you can use multiple I2C devices at the same time, providing they don't have the same address (we've made sure that all of our breakouts have different addresses). We've also broken out a load of useful pins along the top of Breakout Garden, so you can connect other devices and integrate them into your Breakout Garden projects. If you have Pimoroni breakouts to which you've already soldered headers, then you can use this top row of pins to use them alongside other breakouts on Breakout Garden.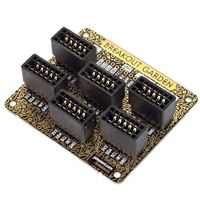 Pimoroni Breakout Garden HAT (I2C)
Available for In-Store Pickup Only.