Apple

Apple Leather Case for iPhone XS Max - Lilac
Overview
This Apple-designed case is made from specially tanned and finished European leather for a luxurious feel and is precision crafted by the same designers who create the iPhone. The case fits snugly and your iPhone XS Max still feels incredibly slim, even with the case on. The soft microfiber lining on the inside helps protect your iPhone. And on the outside, you see color that is more than surface deep, thanks to a dye that is infused into the leather. he case also supports wireless charging, so you don't need to remove it when your phone is powering up.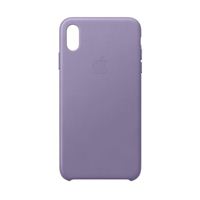 Apple Leather Case for iPhone XS Max - Lilac
Usually ships in 1-3 business days.