Apple

Apple iPhone XS Max Leather Folio - Cornflower
Overview
Crafted from specially tanned and finished European leather for a luxurious look and feel, the iPhone XS Max Leather Folio fits snugly around your iPhone. Open it and your iPhone XS Max wakes up. Close it and it goes to sleep. Inside there is a soft microfiber lining for even more protection, and space to hold your bills, small notes, and several cards. And you can keep it on all the time, even when you are charging wirelessly.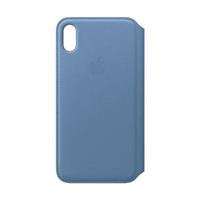 Apple iPhone XS Max Leather Folio - Cornflower
Usually ships in 1-3 business days.