Seagate

Seagate IronWolf Pro 2TB 7200RPM SATA III 6Gb/s 3.5" Internal NAS Hard Drive
Overview
We understand your unique data storage challenges, and crafted the IronWolf Pro 2TB NAS hard drives to help you achieve your goals. Built for multi-user environments and high workload rates, these NAS hard drives are enhanced with AgileArray technology for optimal reliability and system scalability.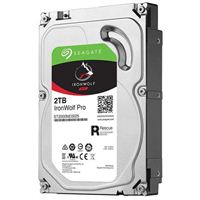 Seagate IronWolf Pro 2TB 7200RPM SATA III 6Gb/s 3.5" Internal NAS Hard Drive
Usually ships in 1-3 business days.