Oculus

Oculus Quest All-in-One VR Gaming Headset - 128GB
Overview
Oculus Quest is an all-in-one gaming system built for virtual reality. It allows you to play almost anywhere with just a VR headset and controllers. Oculus Quest has positional audio built directly into the headset, so you can hear your teammates or what is sneaking up behind you even without headphones. Setup requires an iPhone (iOS 10 or higher) or Android (6.0 Marshmallow or higher) smartphone, the Oculus App (free download), 802.11 b/g/n wireless Internet access, and an Oculus account.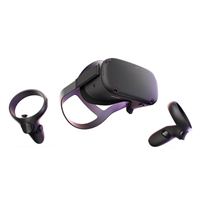 Oculus Quest All-in-One VR Gaming Headset - 128GB
Usually ships in 1-3 business days.