Audiovox Electronics

Audiovox Electronics Amplified Ultra-Thin Multi-Directional HDTV Antenna w/ Built-in Signal Meter
Overview
RCA Amplified Ultra-Thin multi-directional HDTV antenna with built-in signal meter is patented, 360 degree multi-directional design eliminating the need for constant adjustments. Smartboost amplifier design outperforms all other brands and boosts weak signals. Receives 4K and 1080 HDTV broadcasts for UHF and VHF signals. Hang antenna on the wall or window. Built-in signal meter helps you find the best location for your antenna to receive the most channels.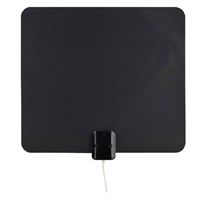 Audiovox Electronics Amplified Ultra-Thin Multi-Directional HDTV Antenna w/ Built-in Signal Meter
Usually ships in 5-7 business days.