Razer

Razer D.Va MEKA Overwatch Licensed Gaming Headset
Overview
Whether she's in the thick of battle or starring in her blockbuster, Hero of My Storm, D.Va is never without her Razer MEKA headset. Crucial for communicating with her teammates as well as her beloved fans, this iconic headset is a must-have for all aspiring mech pilots and D.Va fans.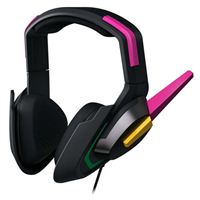 Razer D.Va MEKA Overwatch Licensed Gaming Headset
Usually ships in 1-3 business days.