PowerSpec PowerSpec G317 Gaming Desktop PC

Intel Core i5-9600k Processor 3.7GHz; NVIDIA RTX 2060 GDDR6; 16GB DDR4 RAM; 50GB Solid State Drive
Overview
Intel Core i5-9600k Processor 3.7GHz
NVIDIA RTX 2060 GDDR6
16GB DDR4 RAM
50GB Solid State Drive
Microsoft Windows 10 Home
The PowerSpec G317 desktop computer is a powerful gaming machine featuring the Intel Core i5-9600K unlocked processor, an ASRock Z390 Pro 4 System Board, 16GB DDR4 2666 RAM, a 500GB Solid State Boot Drive, and an Nvidia RTX 2060 6GB discrete video card to provide an incredible experience playing the most demanding games in the market today! Note: This system is preinstalled with Windows 10 Home software.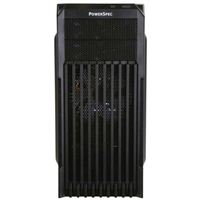 PowerSpec G317 Gaming Desktop PC

Intel Core i5-9600k Processor 3.7GHz; NVIDIA RTX 2060 GDDR6; 16GB DDR4 RAM; 50GB Solid State Drive
Usually ships in 1-3 business days.