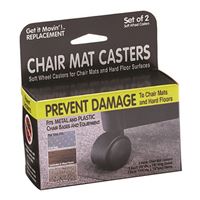 Master Caster

Master Caster Soft Wheel Casters for Chair Mats and Hard Floors - 2 Pack
Overview
Get it Moving Replacement Casters Series takes the guesswork out of choosing the correct caster to use. Featuring our popular Duet Casters, each package contains two wheels, appropriate stems and complete instructions for quick and easy installation. Features 2" diameter, black dual wheels, full hood design and a choice of hard wheels for carpeting or soft wheels for hard floors and chair mats. Choose stem fasteners for wood base furniture or metal base furniture. Weight rating 100 lbs. per caster wheel. Use two packages for furniture and chairs with four legs. Replacement of all four casters at the same time is recommended.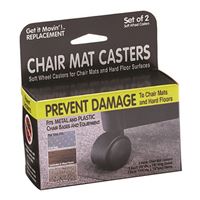 Master Caster Soft Wheel Casters for Chair Mats and Hard Floors - 2 Pack
Usually ships in 1-3 business days.