SparkFun Electronics

SparkFun Electronics LilyPad Sewable Electronics Kit
Overview
The LilyPad Sewable Electronics Kit lets you explore the wonderful world of electronic sewing (e-sewing) and e-textiles through a series of introductory projects using the LilyPad system. You'll learn how to sew basic circuits to light up LEDs, control them with buttons and switches and even experiment with a pre-programmed LilyMini circuit that reacts to ambient light levels.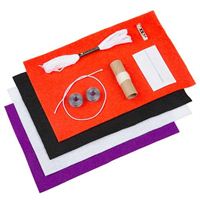 SparkFun Electronics LilyPad Sewable Electronics Kit
Usually ships in 1-3 business days.