Cirago

Cirago 3-in-1 Portable Humidifier
Overview
The 3-in-1 Humidifier includes a USB fan and USB light. The humidifier also has a built-in LED light that changes colors to provide an atmospheric color night light. The humidifier features ultrasonic technology to quiet operation while providing increased humidity in the air. Water tank capacity of 200 ML (6.76 oz), and up 4 hours of usage time.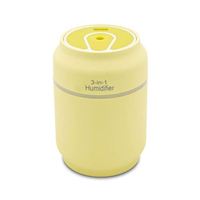 Cirago 3-in-1 Portable Humidifier
Usually ships in 5-7 business days.