CyberPower Systems

CyberPower Systems 750VA Slim Tower 8-Outlet Battery Backup and Surge Protector w/ 2-USB
Overview
The CyberPower SL750U uninterruptible power supply (UPS) system provides surge protection for lightning-induced surges and other power events that can damage electronic equipment. This unit delivers enough battery backup to connected devices during a utility power failure, so you can perform a graceful shutdown to protect against the loss of data and damage to valuable electronics including computers, gaming consoles, and home networking equipment.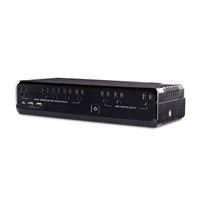 CyberPower Systems 750VA Slim Tower 8-Outlet Battery Backup and Surge Protector w/ 2-USB
Usually ships in 5-7 business days.