Night Owl Night Owl UHD Hybrid Security Kit

6-Channel; 6 Cameras Included; 1TB Pre-Installed HDD; 4k Resolution
Overview
6-Channel
6 Cameras Included
1TB Pre-Installed HDD
4k Resolution
Worlds are colliding! Night Owls wired and wireless worlds join forces for the first time. The Night Owl 4K W2 Fusion Hybrid DVR system provides true security and flexibility. At 8 megapixels, its 4 times the quality of 1080p HD. The Night Owl 4K W2 Fusion Hybrid DVR system lets you view and record in 4K. There are absolutely no fees for storing your recordings. Simply keep everything on the pre-installed 1TB hard drive. Patent-Pending Dual Sensor Technology identifies heat and motion from animals, people and vehicles to reduce false alerts by up to 90%. This smart recording captures only significant moments, saving on storage. L2 Color Boost Technology captures full-color video even in low-light settings. As day turns to night, it continues producing detailed color images long after other cameras, only switching to Night Vision if necessary. Rounding out this Hybrid solution are AC powered wireless 1080p IP cameras. You can move them as your needs change, and the magnetic base makes it easy to mount. Maximize your coverage without installing cables, saving you time and money.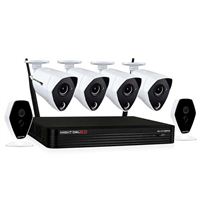 Night Owl UHD Hybrid Security Kit

6-Channel; 6 Cameras Included; 1TB Pre-Installed HDD; 4k Resolution
Usually ships in 5-7 business days.