Azio

Azio Artisan Retro Compact Keyboard - Black/Copper
Overview
The Retro Compact Keyboard (RCK) is the most premium mechanical keyboard created for the modern user. This centerpiece keyboard is comprised of premium materials, a timeless appearance, and intuitive usability. With its compact form, the RCK is the ideal creative tool designed for both the traveling and stationary lifestyle.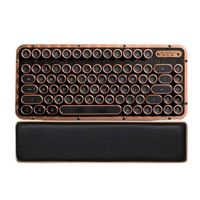 Azio Artisan Retro Compact Keyboard - Black/Copper
Usually ships in 1-3 business days.