Acme Made

Acme Made Skinny Large Laptop Sleeve Fits Screens up to 15" - Black
Overview
Skinny Sleeve Large Neoprene fits the Apple MacBook Pro 15" (late 2016) and 14" laptops like Lenovo Flex and X1. The Skinny Sleeve uses a unique stretch-stitch seam to allow for ultra-thin fully padded protection and also includes a sewn-in protective layer on both the front and back of the sleeve. The stylish elastic band ensures that your laptop stays securely inside the sleeve. Stretches to fit devices up to 0.9 in. in thickness.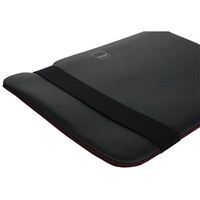 Acme Made Skinny Large Laptop Sleeve Fits Screens up to 15" - Black
Usually ships in 1-3 business days.