NetGear

NetGear CM500V DOCSIS 3.0 Cable Modem with Voice
Overview
The NETGEAR CM500V Cable Modem for Internet & Voice provides a connection to high-speed cable Internet and supports 2 phone lines. CableLabs certified DOCSIS 3.0 is 16X faster than 2.0 devices. Up to 680Mbps download speed for streaming HD videos, faster downloads, and high speed online gamingideal for XFINITY from Comcast Double and Triple Play service plans. A Gigabit Ethernet port provides faster access and downloads. Save money over time by owning your cable equipment and avoiding monthly rental charges from your Internet Provider.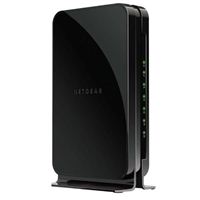 NetGear CM500V DOCSIS 3.0 Cable Modem with Voice
Usually ships in 1-3 business days.