Digipower

Digipower 61 W USB Power Adapter 2 x USB-A Ports, 1 x USB-C Port
Overview
This adapter will plug into the USB-C port of the power adapter, and then it becomes a 5V/3A USB-C port, and 2 USB-A ports. One of them 5V/1A, and the other 5V/2.4A. Apple Power Charger not included.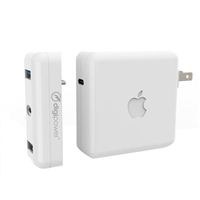 Digipower 61 W USB Power Adapter 2 x USB-A Ports, 1 x USB-C Port
Usually ships in 1-3 business days.