Sonos

Sonos Sonos One (Gen 2) - White
Overview
With integrated wireless connectivity, voice control, and home automation support, the white Sonos One isn't your typical wireless speaker. Equipped with Wi-Fi and a 6-microphone array, the Sonos One connects to your home's wireless network and allows you to intuitively play music, check the weather and traffic, hear sports scores, and more. Using far-field voice control technology powered by Alexa, the built-in microphones allow the Sonos One to pick up your voice from any direction in the room, even while music is playing.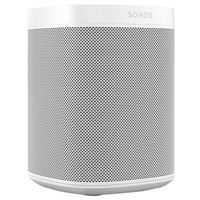 Sonos Sonos One (Gen 2) - White
Usually ships in 5-7 business days.