Digital Peripheral Solutions Digital Peripheral Solutions Security Kit

8-Channel; 4 Cameras Included; 1TB HDD Pre-Installed; 1080p Resolution
Overview
8-Channel
4 Cameras Included
1TB HDD Pre-Installed
1080p Resolution
Boost your protection with the Q-See 8-Channel Analog Security System with (8) 1080p Bullet Cameras. Designed for your home or business: this reliable: hard-wired analog bundle delivers crystal-clear: high-definition video allowing you to detect instances of criminal activity: vandalism: or other unwanted intrusions onto your property. Other important features of your 8-Channel Analog System include: Remote Viewing Monitor your property with the QC Mobile App from the comfort of your smartphone: table: or desktop computer: and never miss a moment of surveillance! Night Vision Get round the clock surveillance of your home or business environment with 65 ft. Night Vision capability in total darkness. Trust in knowing that High-Powered LEDs will pick up on any intrusions onto your property. Watch over what matters most at all times from across town or across the globe with the Q-See Security Advantage!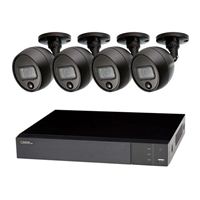 Digital Peripheral Solutions Security Kit

8-Channel; 4 Cameras Included; 1TB HDD Pre-Installed; 1080p Resolution
Usually ships in 1-3 business days.