Inland

Inland Raspberry Pi 3 B+ Starter Kit
Available for In-Store Pickup Only.

Overview
A Micro Center exclusive, the Inland Starter Kit for Raspberry Pi is the best place for anyone interested in learning more about this amazing single board computer. What makes this kit special is all the curated components, and the included quick start guide and pinout chart, all designed by Raspberry Pi enthusiasts. After years of experimenting with electronics we hand selected the parts we all wish we had when we started our own adventure.
Created by makers, for makers.
The Raspberry Pi 3 Model B+ computer is rapidly gaining status as one of the best Pi models available. Makers love its faster-than-previous-models processor and clock rate. It also features an updated Ethernet chip with PoE capability (Requires addiitonal add-on HAT) and 5 GHz WiFi!
Learn to build your own computer based on the Raspberry Pi model 3 B+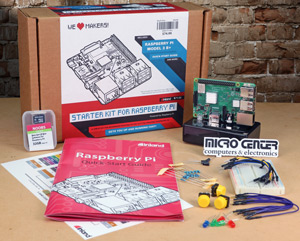 We've made building electronics with Raspberry Pi 3 model B+ super easy with this starter kit. It's got everything you need to get started, and delivers enough fun to get you interested in building even more Pi projects.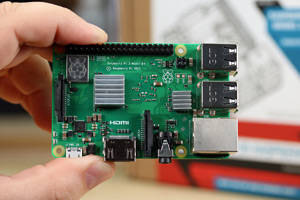 A Micro Center Exclusive
Our exclusive Starter Kit for Raspberry Pi was created by makers, for makers, and includes the latest model of the Raspberry Pi family of single board computers. The Raspberry Pi 3 Model B+ is the latest iteration from the Pi Foundation. The 3 B+ is powered by a robust 64-bit quad core processor running at 1.4GHz, and includes dual-band wireless LAN, Bluetooth 4.2/BLE, an Ethernet port, 4 USB ports, and so much more. Those are just some of the amazing specs for a computer about the size of a credit card.
What's In The Kit
Our kit is different, and you're going to love it! We include all the essential components needed to get you up and running fast. Just supply your own keyboard, monitor, and mouse, and let the adventure begin. We went the extra mile with this kit and included:
Raspberry Pi board
Power supply
Heat sinks
Protective case
HDMI cable
Preloaded 32gb micro SD card
NOOBS operating system installed
Micro SD card reader
The kit also comes with a 30+ page Quick Start Guide to get you up and running in minutes. No need to search the Internet to figure out what's next, it's all there in the guide. We'll even walk you through your fist physical computing exercise by blinking an LED with just a few lines of code and the included electronics components featuring a breadboard, jumper wires, LED assortment, buttons and more. From there the possibilities are endless. Your adventure is about to begin, but thankfully with our exclusive curated kit for Raspberry Pi you've got nothing to worry about!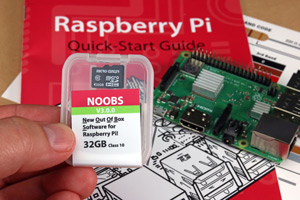 Featuring NOOBS
New Out Of Box Software, or NOOBS, is the easiest way to set up your Raspberry Pi for the first time. The included 32GB NOOBS Micro SD cards helps you get up and running fast by having the operating system pre-loaded onto the card.
What You Can Do With Raspberry Pi 3B+
New to Raspberry Pi and wondering what you can do with it? For starters, you can use it for retro gaming, or a desktop PC. You can use it for building a media center, or for wireless printing. You can even use it for robotics!
Once you learn about the essentials, you can use the included parts pack, and resistor guide, to start building interactive physical circuits that work with the Raspberry Pi. You start with blinking an LED by Page 4 of 4 learning some Python code, but what you do next is really up to you! Build a retro gaming machine, a media center for your home, or just about anything an internet connected computer can do! The possibilities are endless. Be sure to check out the DIY section of your local Micro Center to see everything we have to offer. It's a DIY'ers dream store!
Pi 3 B+ Components at Micro Center
Looking for Pi 3 B+ compatibles? Here's some well-suited components also available at Micro Center: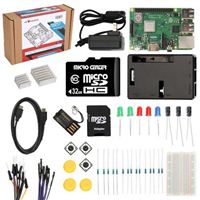 Inland Raspberry Pi 3 B+ Starter Kit
Available for In-Store Pickup Only.