Razer

Razer Tactical Pro Gaming Laptop Backpack Fits Screens up to 17.3" - Black
Overview
Designed to take a beating, the Razer Backpack is made from the same materials used for military flak jackets thick, tightly woven robust ballistic nylon. Its water-resistant, scratch and tear-proof exterior effortlessly protects your gear as you take on the perils of everyday life. Designed to carry laptops up to 17.3, and comes complete with an additional MicroFiber lined pouch for a Tablet. The frameless design with heavily padded shoulder straps and moisture wicking back panel ensures comfort and ease regardless of what you carry. Adjustable chest strap evenly distributes the weight of a heavier load over your back, so you experience less fatigue. The rugged design also incorporates a rain poncho large enough to cover the entire bag, protecting it from the elements.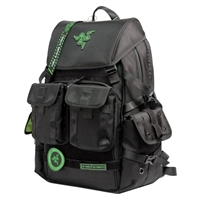 Razer Tactical Pro Gaming Laptop Backpack Fits Screens up to 17.3" - Black
Usually ships in 5-7 business days.