Amplifi Amplifi AmpliFi Gamer's Edition Wireless System

Up to 5,250 Mb/s of Total Throughput; 1.6" Capacitive Touchscreen Display; Up to 20,000 sq feet Range Indoors
Overview
Up to 5,250 Mb/s of Total Throughput
1.6" Capacitive Touchscreen Display
Up to 20,000 sq feet Range Indoors
The AmpliFi HD Gamers Edition is equipped with a GeForce NOW QoS mode, developed by Ubiquiti with NVIDIAs support to quickly adjust networks for optimal game streaming performance. The QoS implementation offers gamers a simple solution for detecting latency or frame loss issues, resulting in a top-quality experience when other traffic is present on the network.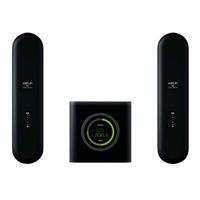 Amplifi AmpliFi Gamer's Edition Wireless System

Up to 5,250 Mb/s of Total Throughput; 1.6" Capacitive Touchscreen Display; Up to 20,000 sq feet Range Indoors
Usually ships in 5-7 business days.