Sennheiser

Sennheiser RS 135-9 Wireless Headphones - Black
Overview
The RS 135 is an open, supra-aural wireless RF headphone system. Its transparent and well-balanced sound with great bass response makes this system an ideal choice for all types of music and TV applications. Furthermore, its innovative "easy recharge" function offers the ultimate in convenience when it comes to charging and storing your wireless headphones. Enjoy total freedom of sound, stylish design and maximum comfort, all at an affordable price.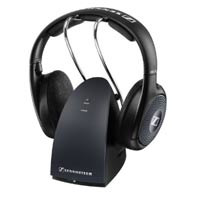 Sennheiser RS 135-9 Wireless Headphones - Black
Usually ships in 1-3 business days.