JBL

JBL Endurance Dive Wireless Earbuds - Black
Overview
With the Endurance DIVE Waterproof Wireless In-Ear Headphones from JBL, you can stream audio from a Bluetooth-compatible mobile device, or play audio directly from the built-in MP3 player. You get 1GB of storage for hours of audio. Whether you stream or not, the built-in battery provides up to 8 full hours of playback per charge. If you're in a rush and forgot to charge your DIVEs, don't worry, because with just 10 minutes of charging, you'll get enough power for an hour of audio.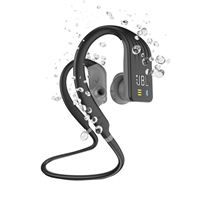 JBL Endurance Dive Wireless Earbuds - Black
Usually ships in 1-3 business days.