MacAlly

MacAlly Solar Powered Rechargeable Slim Wireless RF Keyboard For Mac
Overview
The Macally RFSOLARKEYA is a stylish wireless RF solar keyboard: especially designed for Mac. It has 110 full size: thin and quiet Scissor-Key-Switch keycaps for a sensitive and responsive touch. It also has 21 convenient preset shortcut keys for one-touch control of Mac applications and a 17-key numeric keypad to quickly and efficiently enter long sequences of numbers. The built-in solar panel constantly recharges internal Li-ion battery under any indoor or outdoor light. You will never need to replace battery or recharge battery manually again. The stylish and slim Macally RFSOLARKEYA is a perfect match for your Apple computer as it will greatly help you to increase your productivity!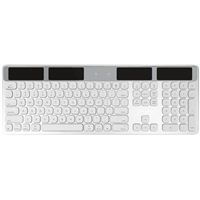 MacAlly Solar Powered Rechargeable Slim Wireless RF Keyboard For Mac
Usually ships in 1-3 business days.