Kanex

Kanex DuraBraid Magnetic Charging Cable for Apple Watch - Black
Overview
Kanex cables are Apple MFi Certified, which means they are made specifically to fit with your iPhone, iPad, or iPod so you can expect quality performance and reliability. This extra long 3M length cable is super convenient for those hard to reach places. This cable is encased in a DuraBraid protective exterior, helping protect it from everyday wear and tear.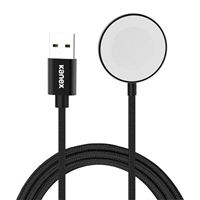 Kanex DuraBraid Magnetic Charging Cable for Apple Watch - Black
Usually ships in 1-3 business days.