Logitech G Logitech G G332 Stereo Gaming Headset

50mm Audio Drivers, Leatherette Ear Cups and Headband, Boom Microphone, Headset Y-splitter for Separate Mic and Headphone Jacks
Overview
50mm Audio Drivers, Leatherette Ear Cups and Headband, Boom Microphone, Headset Y-splitter for Separate Mic and Headphone Jacks
Logitech G332 gaming headset produces big sound to get you into the game. Experience the thrill of a complete gaming experience where you hear everything and everyone hears you.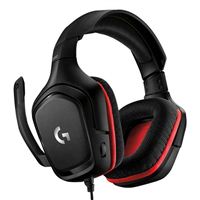 Logitech G G332 Stereo Gaming Headset

50mm Audio Drivers, Leatherette Ear Cups and Headband, Boom Microphone, Headset Y-splitter for Separate Mic and Headphone Jacks
Usually ships in 5-7 business days.