Laut

Laut Prestige Folio Case for iPad Pro 12.9" - Tan
Overview
On the pursuit of a simple and subtle chic style, Inflight Folio is designed to deliver a message of your personal statement. Made from a unique flecked fabric with faux leather trim, Inflight Folio is right on trend. Sleek looks and a style that matches your intrinsic fashion spirit. Not only does the premium exterior look fresh, its also extremely slim, lightweight and unimaginably portable, which smoothly slips into your bag - yes, it is indeed that easy.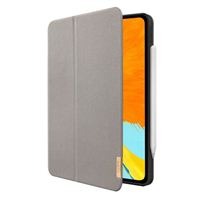 Laut Prestige Folio Case for iPad Pro 12.9" - Tan
Usually ships in 1-3 business days.