HTC

HTC Vive - Virtual Reality Headset
Overview
Once you put on the Vive headset, you're immersed in a world full of surprises. Walk around freely and explore everything; the Chaperone guidance system keeps you safely within the bounds of your play area. Stunning graphics make it feel so real and surreal simultaneously.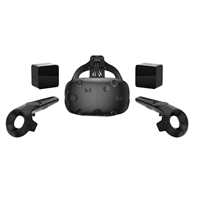 HTC Vive - Virtual Reality Headset
Usually ships in 1-3 business days.